The press takes note of Afrohair.com
Los Angeles Times
October 2000
Essence Magazine
November 2001
Clarion Ledger
Jackson, MS December 2002
News Sentinel
Knoxville, TN March 2006
Ad Banner Format
Banner Portfolio
Hair Styles Gallery
Hair Stylist Locator
Hair Care Products
Hair Care Tips
Clee's Barbershop
Lanovia's Salon
New from Afrohair
Custom Search
© 1999 Afrohair.com
All Rights Reserved
Site Managed by:
Afrohair.com
High Profile Advertising Space
Priced to Meet Your Budget.
Starting from just
$167per month
( six month minimum purchase required)
.
Ad Space Index
(Top 10 Most Visited Pages)
| | |
| --- | --- |
| | PayPal provides Privacy and Security for all online payments processed though this website. |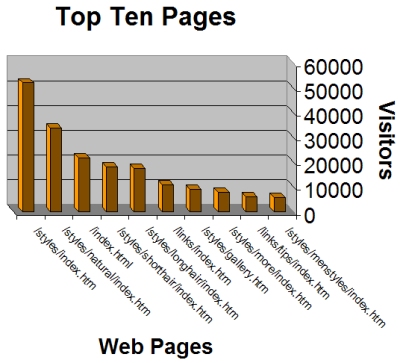 The data above identifies the most popular web pages accessed during the month of August 2006. AlterWind report for Afrohair.com. Additional, data is available upon request.
Summarized
Marketing Prospectus
Recommended Ad Content:
Automobiles, Beverages, Cosmetics, Department Stores, Fashion, Feminine Hygiene, Hair Care, Home Furnishings, Periodicals, Restaurants.
Marketing Audience:
Forward thinking hair care professionals and savvy consumers with interest in hair, fashion, cosmetics and self improvement. Primarily female age 15 to 40. Also some males age 15 to 35.
Site Traffic Statistics:
Afrohair.com receives over 4,800 unique visitors per day.
Web Site Intent:
The Afrohair.com web site provides a hair styles gallery, an international hair stylist locator (27 countries), a hair care chat room and is home to the stylist based romance novel, Love and Monday's Blues. The site also offers links to all matter of information regarding African American hair care. This includes hair care products, hair styling tips, fashions and photo galleries.
Web Site Intent:
Afrohair.com is a portal for all things related to Black hair care. Features include an international hair stylist locator, hair styles gallery, hair care discussion forum and styling tips. The web site is updated daily.
Ad Banner Format:
Various ad formats can be viewed here.