The press takes note of Afrohair.com
Los Angeles Times
October 2000
Essence Magazine
November 2001
Clarion Ledger
Jackson, MS December 2002
News Sentinel
Knoxville, TN March 2006
Hair Styles Gallery
Hair Stylist Locator
Hair Care Products
Hair Care Tips
Discussion Forum
Clee's Barbershop
Lanovia's Salon
New from Afrohair
© 1999 Afrohair.com
All Rights Reserved
Site Managed by:
Afrohair.com
Sidebar Advertising Purchase
(115 x 88 Pixels)
for the
Front Page
.
Advertising package rate: $6000
Package Includes:

- 6 Months of ad time ($1000 per month)
- No rotation, ad placed on side of page
- Ad Creation
.

Order your ad today $6000...
Do you desire
Sidebar ad Creation? Select yes and we will design an ad banner to meet your needs.
| | |
| --- | --- |
| | Click"Pay Now" to use credit or debit card. |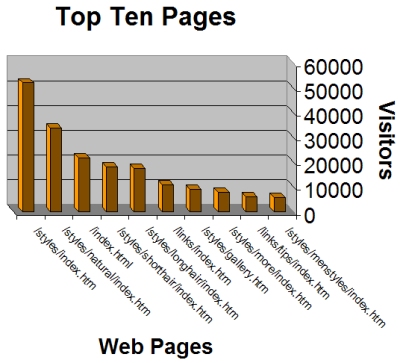 The data above identifies the most popular web pages accessed during the month of August 2006. AlterWind report for Afrohair.com. Additional, data is available upon request.
Summarized
Marketing Prospectus
Recommended Ad Content:
Automobiles, Beverages, Cosmetics, Department Stores, Fashion, Feminine Hygiene, Hair Care, Home Furnishings, Periodicals, Restaurants.
Marketing Audience:
Forward thinking hair care professionals and savvy consumers with interest in hair, fashion, cosmetics and self improvement. Primarily female age 15 to 40. Also some males age 15 to 35.
Page Traffic Statistics:
The Front page is the third most viewed page at Afrohair.com receiving over 23,000 unique visitors monthly (740 daily).
Web Page Intent:
The Front page, the main entrance to the Afrohair.com web site, transitions viewers to all information that the web site has to offer.
Web Site Intent:
Afrohair.com facilitates the coupling of consumers with hair care services, hair care products and hair care/styling information. The site is updated daily.