Sorry, Banner Advertising Space
Has Been Sold Out
for the
Hair Stylist Locator
.
Advertising package rate: $4000
Package Includes:
- 6 Months of ad time (19c per day)
- No ad rotation
- Ad Banner Creation
.

Order your ad today $4000...
Do you desire
Banner Creation?

Click "Buy Now" 
to purchase by credit card.
(MC - Visa - Amex)
| | |
| --- | --- |
| | Pay by check or money order Click_Here |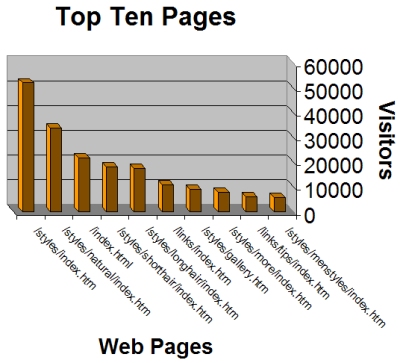 The data above identifies the most popular web pages accessed during the seven day period of March 18th thru March 24th 2006. SmarterStats report for Afrohair.com. Additional, data is available upon request.
Summarized
Marketing Prospectus
Recommended Ad Content:
Automobiles, Beverages, Cosmetics, Department Stores, Fashion, Feminine Hygiene, Hair Care, Home Furnishings, Periodicals, Restaurants.
Marketing Audience:
Forward thinking hair care professionals and savvy consumers with interest in hair, fashion, cosmetics and self improvement. Primarily female age 15 to 40. Also some males age 15 to 35.
Page Traffic Statistics:
The Hair Stylist Locator page receives over 4,000 unique visitors monthly.
Web Page Intent:
The Hair Stylist Locator page is the gateway to our international database of stylists who provide black hair care. The database is updated daily.
Web Site Intent:
Afrohair.com facilitates the coupling of consumers with hair care services, hair care products and hair care/styling information. The site is updated daily.